Recipes from this month's classes
Winter Squash Soup with Gruyère Croutons
Ingredients
Soup
1/4 cup butter
1 large onion, finely chopped
4 large garlic cloves, chopped
3 14-ounce cans low-salt chicken broth
4 cups 1-inch pieces peeled butternut squash (about 1 1/2 pounds)
4 cups 1-inch pieces peeled acorn squash (about 1 1/2 pounds)
1 1/4 teaspoons minced fresh thyme
1 1/4 teaspoons minced fresh sage
1/4 cup whipping cream
2 teaspoons sugar
Croutons
2 tablespoons butter
1 baguette, cut into 24 1/4-inch-thick slices
1 cup grated Gruyère cheese
1 teaspoon minced fresh thyme
1 teaspoon minced fresh sage
Preparation
For soup:
Melt butter in large pot over medium heat. Add onion and garlic and sauté until tender, about 10 minutes. Add broth, all squash and herbs; bring to boil. Reduce heat, cover and simmer until squash is very tender, about 20 minutes.
Working in batches, puree soup in blender. Return soup to same pot. Stir in cream and sugar; bring to simmer. Season with salt and pepper. (Can be made 1 day ahead. Chill. Rewarm over medium heat before serving.)
For croutons:
Preheat broiler. Butter 1 side of each bread slice. Arrange bread, buttered side up, on baking sheet. Broil until golden, about 1 minute. Turn over. Sprinkle cheese, then thyme and sage over. Sprinkle with salt and pepper. Broil until cheese melts, about 1 minute. Ladle soup into bowls. Top each with croutons and serve.
Chicken and Sausage Jambalaya
Ingredients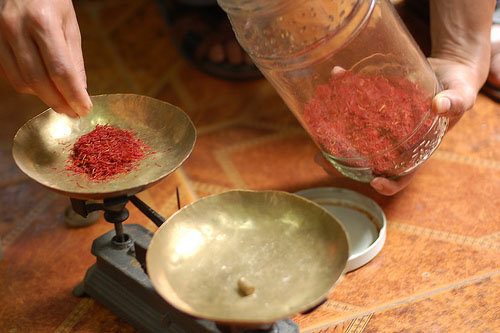 2 tablespoons olive oil
1 4-pound chicken, cut into 8 pieces
2 cups chopped onions
2 cups chopped green bell peppers
1/4 cup chopped fresh parsley
1 tablespoon minced garlic
2 pounds kielbasa, cut into 1/2-inch-thick slices
2 bay leaves
2 teaspoons chili powder
1 teaspoon dried thyme
3/4 teaspoon cayenne pepper
1/4 teaspoon ground cloves
3 cups long-grain white rice
6 cups canned low-salt chicken broth
Preparation
Heat oil in heavy large pot over high heat. Working in batches, add chicken and cook until brown on all sides, about 8 minutes per batch. Transfer chicken to platter. Reduce heat to medium-high; add onion, bell peppers, parsley and garlic to pot. Sauté until onions are tender, about 5 minutes. Add sausage, bay leaves, chili powder, thyme, cayenne pepper and cloves; sauté until spices are fragrant and flavors blend, about 5 minutes. Add rice; stir to coat.
Pour broth over rice mixture in pot. Add chicken; press to submerge in liquid. Bring to boil. Reduce heat to low, cover and cook until liquid is absorbed, rice is tender and chicken is cooked through, about 35 minutes. Remove bay leaves. Season with salt, pepper and more cayenne pepper, if desired. Serve hot.
Ceviche de Camaron
Ingredients
1/2 cup fresh lime juice
1 pound unpeeled small shrimp
1/2 medium white onion, chopped
1/3 cup chopped fresh cilantro
1/2 cup ketchup
1 to 2 tablespoons vinegary Mexican hot sauce
2 tablespoons olive oil
1 cup diced peeled cucumber or jícama
1 small ripe avocado, peeled, pitted and cubed
Salt
Several lime slices for garnish
Tostadas or tortilla chips
Preparation
The ceviche is best made the day it is served. The flavorings can be added to the shrimp a few hours in advance.
Cooking and Marinating the Shrimp:
Bring 1 quart salted water to a boil and add 2 tablespoons of the lime juice. Scoop in the shrimp, cover and let the water return to the boil. Immediately remove from the heat, set the lid askew and pour off all the liquid. Replace the cover and let the shrimp steam off the heat for 10 minutes. Spread out the shrimp in a large glass or stainless steel bowl to cool completely. Peel and devein the shrimp. Toss the shrimp with the remaining 1/2 lime juice, cover and refrigerate for about an hour.
The flavorings:
In a small strainer, rinse the onion under cold water, then shake off the excess liquid. Add to the shrimp bowl along with the cilantro, ketchup, hot sauce, olive oil, cucumber and/or jícama and avocado. Taste and season with salt. Cover and refrigerate if not serving immediately.
Serving the ceviche:
Spoon the ceviche into sundae glasses, martini glasses, or small bowls: garnish with sprigs of cilantro and slices of lime. Serve with tostadas or tortilla chips.